Just a month and a half (or less) to go until the release of SCARLET, and I'm climbing the walls with nerves – or at least, I would be if I wasn't preoccupied with trying to write book 2 . . .
In the meantime, if you'd like a chance to win a copy, follow me on BookBub. The winner will be selected at random on April 2 and announced on April 3. Get your name down now for a chance at adventure, excitement, Revolution, and blood!
(US only. Sorry.)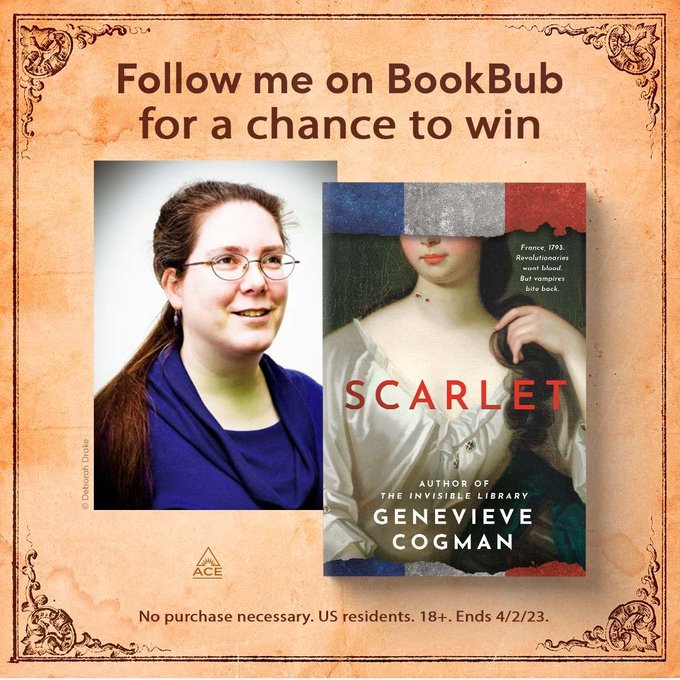 In other news, things are fairly quiet here – the weather's grey, cool and wet (though I'm assured we need rain, it's never much fun to get rained on) and the day job is grinding away. From time to time I do think how nice it would be to go over to writing full-time, but then I remember the uncertainty of a writer's career and money, and how much I like having a regular pay packet and an eventual pension. Life is as it is.
I've been enjoying myself watching videos by Overly Sarcastic Productions on youtube – the JOURNEY TO THE WEST ones in particular, but others too. Check them out at https://www.youtube.com/@OverlySarcasticProductions .
There will probably be more frequent posts (apologies for how slack I am!) as we approach Release Dates for SCARLET and I do various publicity things, answer questions, etc. I'll try to post links to them here. Stay tuned.